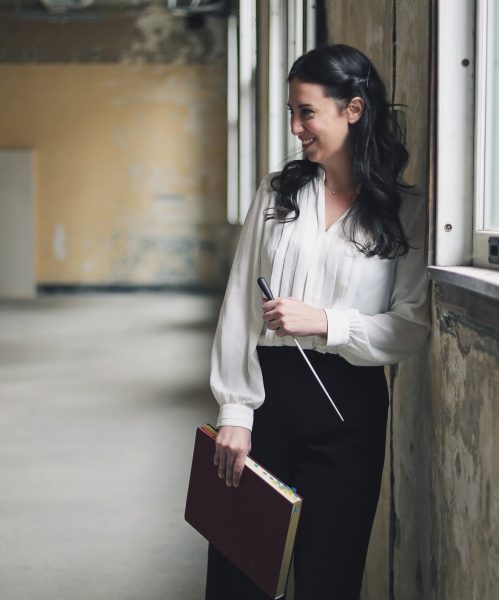 Chelsea Gallo has been labeled a "rising star" within the conducting world (Anwar Nasir to the Associated Press.) Since 2019, Gallo has been a member of the Conducting Staff at the Detroit Symphony Orchestra where she regularly assists top-level conductors and serves the Detroit community. Her appearances and performances with the DSO include recording the music for Lincoln Motor Company (™) Aviator commercials, Young Person's concerts, community Leadership events, and neighborhood engagement projects. For the 2021-22 season, in addition to her responsibilities at the DSO, Chelsea will serve as Assistant Conductor to the Louisiana Philharmonic Orchestra, Director of Orchestras at Loyola University New Orleans, Assistant Conductor at Opera Orlando, a Conducting Fellow with the Dallas Opera, a Fellow with the Turn the Spotlight program in New York City, and Cover Conductor at the Pittsburgh Symphony Orchestra. 
Gallo is Music Director of the Detroit Community Orchestra through the Wu Family Civic Program. In the past, she was Music Director of the Cosmos Chamber Orchestra, an ensemble selected as an Artistic Contributor for NASA, collaborating on out-of-this world projects. Currently, she is a finalist for the Music Director position with the Lancaster Symphony Orchestra. She completed graduate studies at the Vienna Konservatorium and earned a Doctorate from the University of Michigan. 
A retired professional fastpitch player, Chelsea likes all sports and enjoys running, yoga, archery, and weight lifting. Additionally, she loves reading, languages, math, and learning about astronomy.